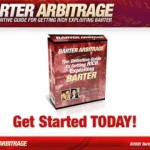 Hey Barter Arbitrage MONEY TEAM members, thought a lot of you might enjoy this video from a dude from the UK who does a nice job of explaining the power of scrip aka gift certificates.
Now this is something we cover in mass detail throughout the updated Barter Arbitrage 2.0 course but if you are like me… a visual presentation is always cool as I personally process better with audio and video.
FYI, while this guy is from the UK his techniques work anywhere. So watch the damn thing! It's not a long video and it's very informative.
And a message to my international students who claim there is no "barter" in your country. WRONG!
Every country trades. Every country on the face of the earth there is an opportunity to barter…the problem is you often step over dimes to pick up pennies or even worse…pick up nothing.
Again, it's true your country may NOT have an organized barter exchange but that does NOT mean you can not begin a trading business.
That's the purpose of this course.
If ITEX does NOT apply to you, it's ok. If BarterCard does not apply to you, it's ok.
This course will show you a myriad of ways to make it work without them. I say this because so many of you are worried about ITEX and such and it is NOT necessary.
Yes joining an organized barter exchange has a lot of advantages. But at the same time, over 50% of MY deals don't even utilize ITEX.
Now enjoy the video and I'll be doing a student radio show on my popular Vegas Vince: Sales and Marketing Behind the 8-ball in a few days. I'll post it on the blog and if u miss it live you can catch the archive as all my shows remain archived forever.
Stay Legendary!
Vegas Vince
Barter Arbitrage 2.0
P.S. And if you find my course valuable…PLEASE leave me some love on the WSO section of the Warrior Forum. We have over 12 pages of rave reviews and I'd love to hear from you over there if you think you got your money's worth. Thanks!