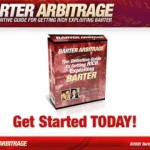 Barter Arbitrage 2.0 is going to be out in the next 7 days or so, and in the mean time I will continue to drive home the power of leverage.
Barter Arbitrage done the way I teach it, allows you to get what YOU need or want today for currencies you have inside you but just never thought of.
I'm going to use an example of a student who has used the free info on this blog to open up his mind to new ways of marketing his "currency."
Enjoy another short, but powerful audio…and remember to opt in to the early bird list…..we have 22 slots left and then I gotta pull the plug.
Keep in mind this is one of dozens of strategies in Barter Arbitrage 2.0
Enjoy this mind bending audio…..and figure out how to apply it!
Vegas Vince
Barter Arbitrage 2.0