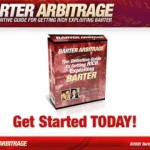 OK peeps, tomorrow at 9pm east coast time, I'll be devoting an entire hour to helping all of you best get jump started with Barter Arbitrage 2.0.
I will cover many questions I've received as well as the proper mindset required to succeed with this or end up a statistic.
The show will be ARCHIVED…..you do not need a BTR account to listen and the link will be provided below: catch it live or catch the replay anytime.

VEGAS VINCE: BARTER ARBITRAGE OVERVIEW SHOW
This show is required listening for all Barter Arbitrage students as I am truly trying to over deliver even after the sale has been made.
Stay Legendary and Tune in!
Vegas Vince
Barter Arbitrage 2.0