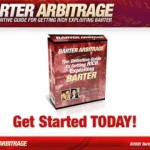 Those of you who invest in Barter Arbitrage 2.0 are going to receive a free pass into the largest organized barter exchange in North America: Canadians welcome!
Those of my awesome international peeps outside of North America will be getting info on the largest barter exchange in the world:
And we are working on even other avenues for you international peeps who for the record live in countries where trade is way bigger then even here in the USA.
Once again, you do NOT need to be a member of a trade exchange to do many of the techniques I teach in Barter Arbitrage, but there are many advantages of joining.
Here's a quick overview audio about Discovering your own currencies…including stuff that 99% of organized barter members  will never know or grasp because as usual, no one teaches this "stuff.
We are filling up faster then I thought we would…..so I'm gonna have to cap this offer at some point or there simply wont be enough time in my life to give you all proper attention.
PLEASE LISTEN TO THESE AUDIOS FROM START TO FINISH…IF NOT U ARE CHEATING YOURSELF OUT OF QUALITY INFORMATION.
And finally, you do NOT need to join a trade exchange. There is a ton of gold in this product that will allow you to trade without one. But truth be told, there are reasons that are in your best interest to do so.
Stay Legendary,
Vegas Vince
Barter Arbitrage 2.0