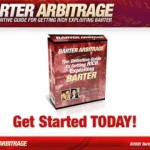 When I first started promoting Barter Arbitrage over 3 years ago I flat out told every one that this secret trillion dollar industry did NOT want this product coming out. I also told you that only around 500 people in the entire world have a real clue as to how the barter industry works and they did NOT want their secrets revealed.
It wasn't a sales pitch. It wasn't hype. It was the truth. One of the bigger trade industry sites went after me with a passion because I told the TRUTH.
But even he finally had to admit that what I was saying was TRUE. He even admitted same on his own site. See links below.
UPDATE….THE LITTLE MOUSE  TYLER SEAMONS  WHO RUNS BARTERNEWSWEEKLY.COM DECIDED TO EDIT HIS POSTS BELOW AND REMOVE THE PARTS WHERE HE ADMITS IN PRINT "Vegas Vince is right as much as I hate to admit it…."
Thanks to all of you who emailed me to let me know you saw the original and the re-edit. Tyler Seamons just proved what a little bitch he really is. Sorry bro….we already all read what you wrote…..you're too late….and now you look like a dumb ass!
Again…..jerk offs like this PROVE MY POINT! The links below have now been edited……by Tyler Seamons.
2. DAMN! VEGAS VINCE IS RIGHT AGAIN!
BUT VINNIE JUST BUSTED YOUR DUMB ASS TYLER: Here are the original posts he made before he "edited" them a few days ago….like the coward he is: please compare the RECENTLY EDITED links above with…the original posts he made below…and then let's wait and see what this little prick has to say.
Please compare the two edited links above to the exact posts below that he originally posted 3 years ago. BUSTED!
2.. BARTERNEWSWEEKLY IS A FRAUD
Wow….you just got punked Tyler! Edit your ass out of this one!
You see…the Barter Industry didn't like the fact that I was bringing in fresh blood to the industry. They didn't like the fact that I brought in entrepreneurs rather then their "cookie cutter" clients who only were taught to trade their OWN goods and services.
They didn't like the fact I told them that they promoted their industry as CHICKENS FOR GOATS!
And they really didn't like that I set the North American record that still stands
:I signed up more new traders in a month then the average barter office with a full sales staff could do in a year! Envy breeds haters!
I hate to break it to the Barter Industry…..but it's not a comeback! I'm back. So deal with it.
Here's an interview never before released with me discussing the Barter Industry's attempts to suppress me. It didn't work.
Stay Legendary!
Vegas Vince
Barter Arbitrage 2.0