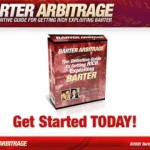 Another cool little 2 minute video re: restaurants thinking outside of the box and utilizing the power of barter to create new clients.
One example is a restaurant in Florence Italy and the other is one I still remember hearing a lot of buzz about in the Windy City-Chicago.
As always flip things around and see how this "model" can be applied to your own ENDEAVORS.
With Barter Arbitrage you are only limited by the power of your imagination for real.
FYI… I will be hosting a BARTER ARBITRAGE OVERVIEW on my legendary Vegas Vince: Sales and Marketing Behind the 8-Ball either this Sunday or Monday depending on how I do on my foot ball bets. 🙂
I will post the show time on this blog so check back and yes, it will be archived if you can't catch it live.
Stay Legendary!
Vegas Vince
Barter Arbitrage 2.0