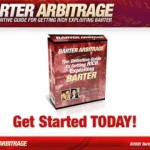 Hey gang, Barter Arbitrage goes live this Monday night…so get your popcorn out, forget about the football game and remember that early birds get the first crack at this legendary product along with ONE MONTH OF CONSULTING WITH VEGAS VINCE.
This is my final product ever and I promise everyone that be it a year from now, ten years from now, or a hundred years from now when I'm dead and buried….this course will remain the most definitive guide on exploiting the billion dollar trade industry ever done.
Actually it already is. I'm just adding a punctuation mark on my legacy.
For those of you who are looking for something that doesn't just deliver real value but over delivers–this course is for you. And the price is frigging ridiculous and those who owned it originally know it.
If u are use to the usual dime sale wso's that include a few videos, bells, whistles and sell for 7 bucks with a 27 dollar OTO that leads to a road called NOWHERE….u will be overwhelmed at the amount of information in Barter Arbitrage 2.0.
It's that massive. It's that legendary. And it's the last thing I'll ever put on the market because I'm sick of all the bullshit being sold to suckers who are as guilty as the promoters of same.
Vinnie keeps it real. If u are a refund artist or looking for a push button road to riches that does NOT exist don't wast your time or mine. And for sure do NOT buy. In fact if I spot your name as one of these "peeps" I will NOT sell to u. I'm serious as a heart attack.
For the rest of you peeps…this product can change your life.
Enjoy a few tips from The Barter Kings below and Stay Legendary.
Vegas Vince
Barter Arbitrage 2.0