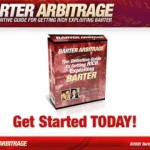 This is far and away the most popular case study I've ever presented on the power of Barter Arbitrage.
Yes Virginia, using the techniques I teach in Barter Arbitrage you can buy high and sell low and still make bank. That is NOT a typo!
It's a case study involving a real student and a deal she did that literally allowed her to "buy high, sell low" and still bank $4000 in cash.
Specifically Sylvia Rolfe purchased a $15000 GIA certified diamond, sold it for $7000….and still made a profit of $4000 cash!
Sylvia Rolfe
Do the math and before you think I am totally crazy, do yourself a favor and check out this 14 minute audio that explains exactly how she did it.
Barter Arbitrage 2.0 will be released in October 2013. Quite frankly it's the most bad ass course of its kind EVER released and will open your mind to a world of opportunities you walk by every day.
NO ONE IN THE HISTORY OF INTERNET MARKETING OR THE BARTER TRADE INDUSTRY HAS EVER PUT OUT THE TYPE OF INFORMATION CONTAINED IN THIS MASSIVE PRODUCT AND YOU'LL BE GETTING IT FOR CHUMP CHANGE BECAUSE IT'S THE LAST PRODUCT I'M EVER RELEASING.
Continue to check this site daily….as we are putting a ton of free gold up.
Stay Legendary
Vegas Vince
Barter Arbitrage 2.0