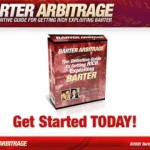 NOTE: IF YOU WANT ACCESS TO BARTER ARBITRAGE 2.0 BEFORE IT'S RELEASED TO THE PUBLIC, SIMPLY HIT THE HOME PAGE AND ENTER YOUR INFO. Thanks, Vince
This is another short but blistering audio designed for my international peeps and the rest of you who may or may not even want to join an organized barter exchange.
Learn how to use the power of "scrip" to literally trade your goods and services at full retail for things you would pay cash for. The best part is, your funny money is often not redeemed for months if ever.
You can literally create your own money today based on your products and services and trade it while obtaining massive leverage.
In many cases it's like borrowing cash today but rather then paying interest on the loan, you often will earn interest! This stuff really gets me excited because I use it all the time on and off the barter exchange.
You guys and girls are getting an incredible amount of free information. Do yourself a favor and listen to all the audios till their completion or you will not get a full understanding of just how powerful Barter Arbitrage is.
Stay Legendary,
Vegas Vince
Barter Arbitrage.com