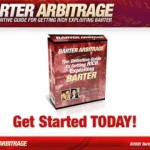 This audio is jam packed with tips for those of you who are involved in what I call "un-sexy" businesses. Whether it's carpet cleaning, office cleaning, litter pick up, or snow plowing in cold ass Minnesota….these are among the easiest services to trade.
1. Get instant access to good or services you need NOW….without paying cash.
2. Get valuable scrip in return for your "IOU" that u can sell at a discount for instant cash.
3. Use the scrip to create a "triangulation trade." (Don't know what I'm talking about? Then go through this blog and find the post on triangulation….along with all the other free gold I'm giving away.
This bad ass little audio will also explain why those merchants who sell with huge margins are the easiest peeps to trade with and why you need to do simple research before bothering to trade with any company.
Barter Arbitrage 2.0 will be live a week from today and we only have 17 early bird spots left.  So opt in or forever hold your peace….because I am forced to cap it at 200 in terms of being able to provide you early birds with the quality info you deserve.
Stay Legendary,
Vegas Vince
Barter Arbitrage 2.0