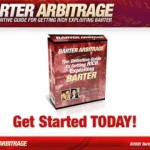 Well peeps, Barter Arbitrage will be going live sometime Monday night October 7. All early birds continue to check into the site as I'll be posting bits of barter bad-assery up until launch day.
The video below perfectly illustrates yet another dude who can see past the forest and way outside of the box most of you allow yourselves to become prisoners of.
My course will give you over 30 hours of hard hitting information that will change the way you do business and look at business forever.
We have 3 early bird spots left. So if you want the month of FREE email consulting I'd opt in asap because I'm guessing we'll be filled by later today.
Enjoy this awesome video as this dude does hundreds of thousands of dollars in trade and we'll not only teach you how he does it….we'll make the process easier.
Keep in mind some of the most respected marketers of this generation not only ENDORSED THIS COURSE….THEY USED IT.
Stay Legendary!
Vegas Vince
Barter Arbitrage 2.0