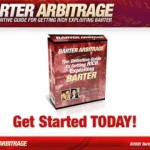 This audio is for those of you who either think you need a lot of money to get started in the trade business or feel you have no marketable skills.
Let's get this straight! You don't need much cash at all if any. You can be an utter clueless individual in terms of SEO and website design yet still look like an expert complete with a portfolio of SOMEONE ELSE'S WORK!
This audio is gonna show you how to trade with two of the easiest industries who welcome trade I know of: Hotels and Restaurants.
Learn in this audio how to "source low", swipe samples, and trade high! The massive spread is your profit. Use it or sell it….your choice! Got it!
After listening there really shouldn't be any excuses as to why you can't do this. Barter has been around long before money and those people were not exactly rocket scientists so take a listen and go bank profits.
Stay Legendary!
Vegas Vince
Barter Arbitrage 2.0