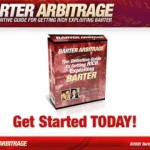 Yet another blistering 7 minute audio that every marketer needs to pay attention to.
Too many of you spend a life time searching for the perfect product and sellers of same. Granted you need to start looking for BUYERS.
Buyers take you out of the "sales business" and put you in the "delivery" business and you can literally use the techniques contained in Barter Arbitrage to do offline joint ventures with luxury retailers who will gladly pay you big bucks for delivery the only thing they really want: BUYERS!
The 7 minute audio below is required listening to all marketers because most of you are doing it all wrong.
BARTER ARBITRAGE WAS TOP SELLING PRODUCT OF ALL TIME IN REGARDS TO EXPLOITING THE TRILLION DOLLAR TRADE INDUSTRY.
Barter Arbitrage 2.0 will be released in October,2013. Continue to check this site daily as we update often. I am NOT an information marketer…..there is NO OPT IN because I don't want nor need a "list."
Barter Arbitrage 2.0 will be my legacy and the final product I ever release. The price will be a no-brainer.
Stay Legendary!
Vegas Vince
Barter Arbitrage 2.0