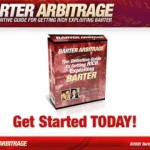 Another powerful case study from Vegas Vince showing the power of exploiting the Barter industry….like no one else has ever done before.
This case study is for you "players" looking to use barter for the "big score" type of deals. This blistering 7 minute audio was recorded back in the day, and as usual, is still just as relevant today as it was back then.
Unlike all the ever changing bells and whistles associated with the internet marketing abyss, barter arbitrage strategies stand the test of time. Click the link below and enjoy:
For more information continue to check into  BARTER ARBITRAGE daily as we update often.
This site will quickly become a treasure chest of FREE CONTENT that exposes a billion dollar industry and how you can profit from it!
P.S. BE ON THE LOOKOUT FOR UPCOMING CASE STUDIES WITH ACTUAL BARTER ARBITRAGE STUDENTS!
Stay Legendary!
Vegas Vince
Barter Arbitrage 2.0