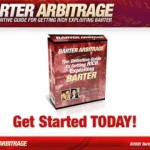 I want everyone to listen to the 5 minute audio because I just busted the head of BarterNewsWeekly.com dead to rights!
The creepy little dude who runs this so-called industry site decided a few days ago he was going "edit out" all mentions he made of Vegas Vince "being right." And I quote:
"Apparently Vegas Vince is right, as hard as that is for me to admit. In a student created video "documenting" the barter system, it became apparent to me that we in the barter industry have done a bad job of making ourselves heard in the long view. Chickens for Doctors is one of the headlines that is all over all of the news outlets, and most of the content of these stories paints barter as an ancient idea, one that went out of fashion with corsets and white wigs. Sue Lowden, though she didn't mean to do it, has brought barter in to a specific light. Barter is now being scrutinized more than it ever has.And this video tells us what people think barter is…chickens for goats. Like Lucy, we have some explaining to do."
Tyler Seamons who runs Barternewsweekly.com just got punked and I can't wait to hear how he's gonna talk himself out of this one, because Vinnie here has his ORIGINAL POSTS FROM 3 YEARS AGO that this creep didn't have the balls to stand by.
NOW FOR THE PROOF….GO TO THE POST ON THIS SITE TITLED:
Why The  Trade Industry Hates Barter Arbitrage
Compare the posts…..and shame on you Tyler. There's always some joker who thinks they're smarter then me…..but you aint one of them.
I TOLD YOU PEEPS….THEY DON'T WANT YOU GETTING THIS INFORMATION…IT'S NOT HYPE.
Stay Legendary,
Vegas Vince
Barter Arbitrage 2.0