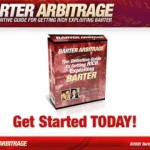 OK peeps, I've been hammering you with hard hitting FREE barter strategies that many of you have already used to go to the bank and the updated course hasn't even been released yet!
Awesome! Barter Arbitrage is my final product and Vinnie wants it to be his legacy so rest assured you are going to get the very best information I can provide.
Here's another bad ass audio on the art and science of Barter Triangulation which is a method that can save deals that seem impossible and on a larger level….can make you rich.
One deal a year is all it takes to sip frozen Margarita's under a palm tree.
Stay Legendary!
Vegas Vince
Barter Arbitrage 2.0