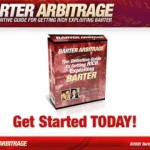 Hey peeps, for a lot of you on tight budgets there is a ton of quality information on Youtube regarding exploiting garage sales, Goodwill outlets, and even the free section on Craigslist where people actually give their stuff away.
Most of these videos are geared to people who sell on Ebay or Amazon, but truth be told many of these items will sell at even higher prices on trade or in many cases you can begin "trading up" directly scoring items on the cheap.
So whether you're a savvy chick who likes to thrift, or a dude who has a talent for picking….this is a great way to get started for very little cash outlay.
Sell the items for cash, or use them to jump start your trading career. The decision is ultimately yours based on your personal circumstances.
The video below is not the best or the worst on the subject but will give you some ideas of how this dude pimps the Goodwill circuit.
Stay Legendary,
Vegas Vince
Barter Arbitrage 2.0