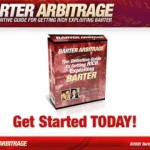 I want everyone to pay attention to the compliance dialogue used in this trade. The Barter Kings are attempting trade a classic car for an airplane and this deal reminds me of the time I cash converted a 1986 red Porsche to a dude who showed up with a model wife and a brand new BMW.
Notice the questions and the dialogue used…and implement this in your own direct trading.
And here's one of the best tips Vinnie will ever give you: I don't care how successful a man is….the one thing he wants the most is "to go home again."
Find out what will "get him home" and you will often make the trade UP.
Stay Legendary:
Vegas Vince
Barter Arbitrage