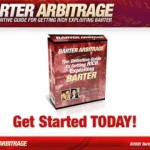 Hey Gang, our second Barter Arbitrage Money Team radio show will begin at 9pm east coast time this Monday November, 4. If u can't make it live, simply catch the archive show….as it will be archived forever.
Not only will I be interviewing the most successful Barter Arbitrage students ever, I'll be adding some extra tips for you all of you.
The second episode for Barter Arbitrage Money Team members looking for even more information regarding the top rated, top selling, most definitive course of all time in regards to exploiting the trillion dollar barter trade industry.
Vegas Vince has special surprises in store for all Money Team members and this is another blistering episode from Vegas Vince as he lays the smack down on the trade industry and give you more tips, tricks and strategies that will allow you to pimp the loopholes available in the secret world of barter and trade.
Peace, Vegas Vince
www.BarterArbitrage.com
p.s. Click the link below for direct access to the show page.
Another Vegas Vince Joint. A Legend Production. Produced, Arranged, Composed, and Written by Vegas Vince
TUNE IN HERE LIVE MONDAY AT PM EAST COAST TIME…OR CATCH THE ARCHIVE!