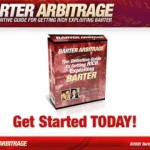 Hey peeps, I am including this video with some hesitation. Granted I know absolutely nothing about Bitcoin other then people either love it or hate it.
At the same time, however, I have received a lot of questions about this digital currency.
I attempted to find a video that covered the subject in detail. It was one of the few that seemed to balance the good vs. the bad.
Seems u might have to be a hardcore computer geek to figure this out but then again, this is something I don't teach, nor do I claim to be an expert of same.
The other reason I'm including this is because any alternative currency fits right into the Barter Arbitrage premise.
I personally don't think I'm smart enough to figure out how the hell this works….but a lot of you will. No I do NOT cover this in my course! lol.
Feel free to leave your honest thoughts about Bitcoin….good, bad, and/or ugly. I'd love to know your thoughts…as I've heard both good and bad things about this "currency."
For those of you who want a really balanced primer on Bitcoin, check out the video below.
If nothing else, I found the video very interesting. As always due diligence is paramount before screwing around with anything like this.
Stay Legendary,
Vegas Vince
Barter Arbitrage 2.0